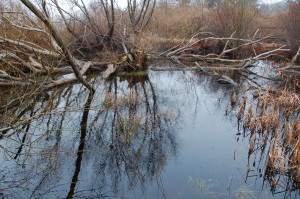 Over the years I never put the pieces together consciously, or actually noticed that it was July that often felt so sorrowful. Perhaps it was just the heat. I never did like hot weather. A sort of malaise seemed to hang in the air…
Then, in 2008, all the pieces fell into place at once. It was a grey and overcast day in early March and I was on the Cape again after many years absence. I was standing in the cemetery where my grandparents are buried. My brothers and I were there to bury our mother.
54 years ago, when I was 3 years old, my grandmother was killed in a boating accident at Ryder's Cove. It was July 9, 1961. The Kennedy's were just taking up residence in the 'summer White House' in Hyannisport. She was a year younger than I am today. My mother was 31, the same age my second born son is now.
One week later, on July 16th, my grandfather died, literally, of a broken heart. He had been at the helm of the boat which had killed my grandmother.
My siblings and I were so young, our parents protected us from as much of this as possible. Of course, we must have noticed that Ma and B-Pa were 'missing' at some point. But we were kept well away from all of the events surrounding their deaths. No funerals, or any official recognition in our lives of the event which would transition to a family story over the years to come.
And so, although the story became a family 'legacy', it was not tied to any particular dates. Just 'summer', for me. I did not think of it much, or often. I grew up knowing the story of their deaths, and knowing the people who knew that story, and loving the property they had called home. My childhood and life were shaped by the freedom and deep connection to nature I found in their gardens and woods and along the shore beyond my grandfather's boathouse. I do not have any clear memories of either of them.
I have one clear memory of the day my grandmother died.
My mother, brothers, and I were staying in the 'blue and white house' on Minister's Point that summer, to be near to my grandparents. It was the last summer we would all be together. The house was a lovely place right on the beach, with lots of windows and a big front porch which led to the kitchen.
We had just been finishing lunch at the kitchen table. My brothers were still at the table and I was standing on my chair, pulled up at the kitchen sink, doing dishes. My hands were submerged in the warm soapy water. I was happy. I turned to face the sound of the closing screen door just in time to see my mother collapse into the arms of her mother's best friend, who had just come up the front porch steps.
In my mind's eye, I can see the screen door, the neatly painted white trim and the dark blue of the porch floor. I can see my beautiful mother, blonde hair pulled up in a twist, neat white shirt and clam-digger length denim jeans, arms thrown around 'Anti Sioux' Hubner's neck. I can still hear her great wracking, howling sobs of grief.
That is my only memory of that summer. It has taken me years to allow all the pieces of the scene to return to me. The perfect summer blue sky, and the breeze coming in off Pleasant Bay. The feel of the warm soapy water in my hands. The deep fear, bewilderment and sudden grief of my own as I watched the scene unfold before me.
After the dates finally became part of my adult consciousness a lot of things that had never made sense began to fall into place.
It made sense that summers were difficult for my mother and yet we never spoke of it. It was almost as if not speaking of it could make it go away. She had some favorite sayings, and these too, became a part of our family legacy. Whenever our all-too-brief trips to stay at my grandparent's house would end, and we would be leaving the Cape, it would rain. She would say, "My mother always cries when we leave."
The guest book in my cupboard was started in 1927 in China, and ends with my grandmother's, and then my grandfather's funeral. Lists of pall bearers and who brought flowers and bouquets. So many flowers. So many signatures. In the back are glued in watercolor sketches my grandfather made of the various houses and landscapes he liked along the way.
Last July, I found myself profoundly melancholy during this fateful week, and it dawned on me with a sort of strange surprise that it was now my 56th year, and the reality of being the age she had been in that tragedy was a new awakening in my own heart.
And so it is, each year, little by little, I am making my peace with this deep sorrow and profound loss, of which I have been a first hand lifelong witness.
My understanding of my mother's fiercely guarded connection to the places, and objects of her parents lives strikes me as incredibly late in coming, so lost was I in my own unfolding life.
As the details of that grief-filled memory have come into focus once more, so has my ability to see whole chapters and life patterns in my own life and the lives of my parents and siblings.
Each year, as these days in July return again, the legacy of the incredibly rich, complex and deep love my grandparents shared and the power of that loss fills my heart with grief, yes. But it also fills me with an immense and expanding gratitude.
For it really is the culture of our families, their great joys and sorrows, and their passions, humor and enthusiasm for life that make us who we are. The deep love my grandparents had for each other was shared by their daughter, and it was this great love which at once gave her strength and made her grief so unbearable.
In the years since my mother's death, when I have contemplated this family history, I have thought that my mother's heart was broken that week in July in 1961, and perhaps it is so, and she never really recovered.
For me, this legacy of the heart is re-awakened each July, and I am learning to weave my way through it carefully, eschewing bitterness and regret in favor of sweet remembrances and contemplation of these remarkable people who were my maternal grandparents.
I find myself fingering the few old notebooks I have from those long gone years. I think of the old photo album of their life in China in the 1920′s and 30′s, where my mother was born. My eyes are caught by the details of a framed watercolor my grandfather painted, or the smiling open face of my grandmother in the little photograph on my desk.
These are my touchstones, now. And though my heart was not broken in the way my mother's was, they mend the sadness which overcomes me in these days, and give me comfort.